A new poll conducted by the Associated Press-NORC Center for Public Affairs Research shows a majority of Americans disapprove of President Donald Trump's response to Puerto Rico in the aftermath of Hurricane Maria, the Associated Press reported.
Just 32 percent approve of how the president is handling disaster relief in the U.S. territory, while 49 percent disapprove. That is nearly half of Americans–let that sink in.
Among Republicans, 76 percent approve of Trump's disaster response stateside while 62 percent approve of how he's handling the situation in Puerto Rico. Among Democrats, 30 percent approve of how Trump is handling the situations in Florida and Texas while just 11 percent approve of how he's handling the situation in Puerto Rico, according to the poll.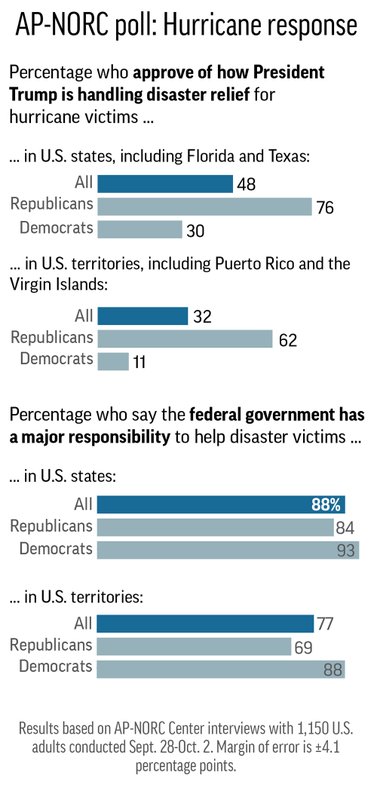 The poll, conducted on Sept. 28-Oct. 2, has a margin of error is 4.1 percentage points.
Contrary to popular belief, Donald Trump didn't 'handle' anything. He finally showed up for a photo op session then disappeared, cutting his visit short. He sat on his little man porcelain throne spewing off tweets, attacking the mayor of Puerto Rico while emergency response personnel stitched together whatever they could with no guidance from the Oval Office.The so-called president failed to take the necessary initial step to facilitate disaster aid to Puerto Rico for more than one week–that fact alone explains more than enough.
Featured Image via Getty Images